The New Dewtas – Suraj Kothiyal
The New Dewtas – The Rise of Rudra
-Suraj Kothiyal
Inkstate Books, Leadstart Publications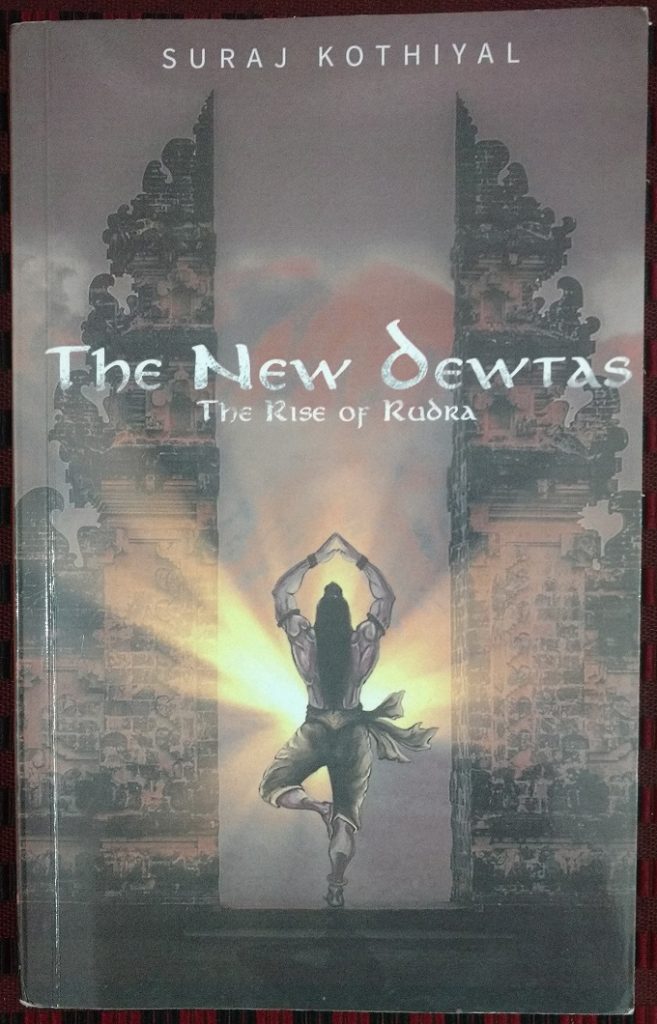 'The New Dewtas – The Rise of Rudra' by Suraj Kothiyal is a story of fiction laced with belief, action and mythology. I did not get this Leadstart book from the publisher but from author Suraj Kothiyal itself. He had got my reference and called me to share his book for review. Since it looked something about mythology and Gods, I started to read the Dewtas with eager. Suraj has earlier written another book, probably a prequel, called 'The Lost Devtas'. Suraj has also written a few poems and they can be found in his site. Among them I liked the poem "क्यों तुम अच्छे कपडे नहीं पहनती" (Why don't you wear nice clothes) the most. Suraj has also been in the news for his works. With all these introductions, I started to read The New Dewtas with a lot of anticipation.
The New Dewtas creates an altogether a new world. Neer is a priest from Himalayas. Strangely, his body has a blue tone. In his dreams, he finds himself saving a land of unknown. Believing in divine messages, he sets out an expedition to search the land that he is supposed to save. He meets a Price named Erlangga and travels along with his to his land Bali. After a struggling voyage they reach the island. Neer seems to find his vision slowly coming to life before him. Though Neer has every possible to turn back to his land in Himalayas and lead a safe life, he continues with the path of the island Bali with a determination to save it from evil. We walk with Neer in his journey, bundled with twists and turns. He meets with suspense, peculiar traditions of the island, more people, friends, believers, suspects, loyals, followers, evils and more. At one point, he starts to doubt himself but his belief in divine succeeds and he sticks to his vision. Neer is ever ready to risk his life to save the new land. He introduces the island to new Dewtas, new land and a fresh salvation. Slowly the people of the island starts to stand by him and follow him to a new future. Neer gains respect and his place in the island with his dedication plus selfless acts.
The New Dewtas could have been a great fictional fantasy. It had all possible elements for it. Powerful heros, dangerous villains, mysterious evil spirits and the God Lord Rudra himself. However, too many characters were packed up in this small book. The story should have been elaborated to capture the characters of each one. With no space for individual characters, the story struggles. We are briefed that Neer is powerful, the kings and evil souls are warned of their unlimited power. We are time and again reminded of their glory. But, with no background of each character we miss to feel the awe. Had the story been a bigger novel, with each character explained of their characteristics with suitable incidents, we would have appreciated it. Somehow, in a rush, the book fails to bring out this characterisation.
Where I feel the book failed me is the way Neer saves Bali. He moves to Bali with a divine call to remove the evil and establish peace. He has the support of Lord Rudra. Neer does not take just the help of Lord Rudra in assisting the local Bali Gods in removing the evil. Instead he replaces local Bali Gods with Indian Gods. No specific reasons given. He declares that Bali could not be saved by it's own domestic Gods or it's existing religious practices. So, Neer suggests new Gods from India – Siwa, Wisnu and Brahma – to be prayed by Bali people if they have to be saved. Just by changing a couple of spellings, a religious propaganda is done in Bali. New statues of these Gods are introduced as against local Bali Gods. This is typical Bullshit. A chauvinist mentality that pushes down your throat – 'My practices are better than your, so just follow me'. This attitude dangerously ridicules other cultures just because its not their own. Very bad attitude in a diverse plural India. Such thoughts are to be discouraged in the bud. I personally denounce this thought and hence the book.
My Verdict: I do not acknowledge concept of the story
Other Reviews