KFA – Excuse me please
Yesterday I saw a photo uploaded in FaceBook, by an ID called 'Jobless Jack', with a caption "Do you know to fly the plane Mr. Krishna, we dont have pilots". The photo inspired me to add my own comments. The posts are below the photo: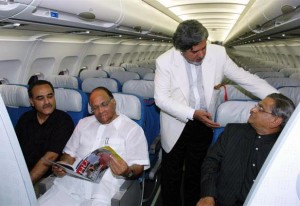 Don't you know? The hostesses are on strike man…

Please understand… This flight is not going to parliament…

Give me some change man…

I told you not to bring these two guys… Didn't I???

Yes… You must show the tickets… Please… At least before the takeoff…

Explain him in Marathi, that its an English magazine…

You are nooooot alone… I am here with youuuu…

You could take your coat off sir…

Girls??? What girls???

நல்லா இருந்தா நான் ஏன்டா உன்கிட்டே வந்து கடன் கேக்குறேன்???

Please understand… We will start only when it is full…

What??? You want to know why the airplanes don't have air horns???

Yes… it runs on ATF… But you need pilot to drive this man…

Understand… We don't have fans inside… You just don't need them in… What you found outside would be attached to the engines till the end of the journey…

See… It's like this… Until you guys bail me out, i cannot fly…

Come on guys… What you did to 'Maharaja', I did to 'Kingfisher'…

Pilots??? They are still stuck in traffic which you guys created on your way here…

Do i ever ask you about your international relationships??? Then why do you ask about my Kingfisher status???

You were misinformed by the revised flight schedule… It was meant only to DGCA and media… Not for passengers…

Don't look at me like this… I too have been to parliament…
That's it!!!