Karna – The unsung hero of the Mahabharata
Karna
-Umesh Kotru and Ashutosh Zutshi
Leadstart Publishing
When Daniel Braganza of Leadstart gave me a list of book to choose, I scanned the titles and immediately took 'Karna – The unsung hero of the Mahabharata'. Mahabharata have always been my favorite. Its such a great story told in very many ways. I myself have half a dozen Mahabharata books – Jaya by Devdutt Pattanaik, Ajaya – The role of the dice by Anand Nilakantan (awaiting Ajaya – Rise of Kali), Uba Pandavam (Tamil) by S Ramakrishnan and a couple more classic versions in Tamil. Still you can always read Mahabharata with same enthusiasm and interest. Mahabharata is not just a single story but is filled with lots of stories and sub-stories. Somehow it gives the feel of reading the story of our own land.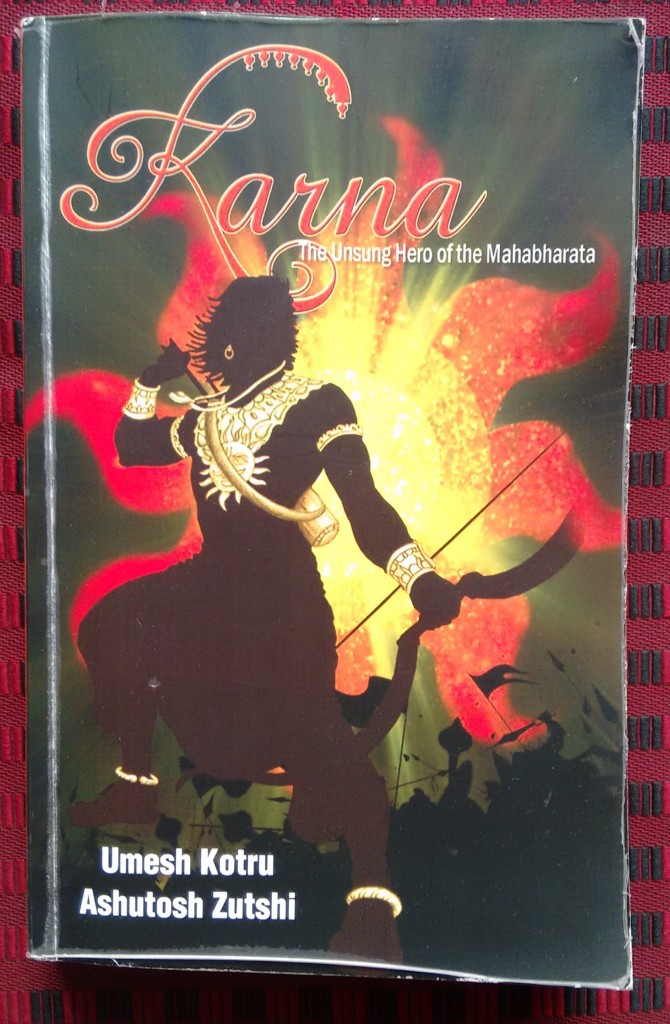 As the name suggests, this book is about the story of one of the great characters of Mahabharata. Whenever I hear the name of this first Pandava, I immediately recall two characters – friendship and generosity. In fact, on the other way round, anyone who talk about these two characters would immediately recall Karna.
Mahabharatha is by itself about the fight between two set of brothers – Pandavas and Kauravas – of which I see that it is more of a fight between two blood brothers – Karna and Arjuna. How did this happen? Because of the friendship between the first Pandava (Karna) and the first Kaurava (Duryodhana). Since Duryodhana helped Karna in the nick of the time, he felt indebted to Duryodhana that he maintained his loyalty and friendship till his death. Duryodhana kept his faith on the skills of Karna, than on anyone else. Even the Pandavas knew that they have to cross him before reaching Duryodhana. Pandava's best Arjuna was totally focused in killing Karna, who was hence to be identified as Kaurava's best. Thus the friendship of Karna with Duryodhana plays an important role in Mahabharata. The second character of Karna, his generosity, actually helped in Pandavas winning over Kauravas. Had he not donated his impregnable chest plates, vow to use Naga Asthra only once, and much more such, he would not have been standing stripped of all his strengths in the final battle of Kurukshetra. And the total outcome of Mahabharata would have been different. Needless to say, Karna have always been my favorite character. No wonder I enjoyed the book.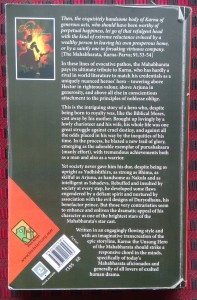 Reading through the book I realise the extensive research done in writing the book. Through various movies and TV serials, we are generally a little misguided on the story of Karna. Some incidents are just added in other mediums to exaggerate the characters of Karna. But in this book, facts are facts. I sincerely appreciate the homework in making this book. I hope that the authors have put up their efforts in ensuring the correctness of the names and incidents. Second thing I liked about the book are various incidents that are very emotional and that they are very well captured in this book. Karna's first meeting with his mother Kunti, discussion between Karna and Krishna before the war, the dilemma in the mind of Karna with regards to his support to the actions of Duryodhana, his late night discussions with his wife are a few worth mentioning. You get yourself absolved with the character and the incidents. It is also worth mentioning that there are no grammar mistakes or spelling mistakes that came to my notice. Kudos to the editing team.
However, I found one thing uneasy with this book. Named Karna, I expected the book would be from the perspective of Karna. I expected justification of his acts and no praise of the Pandavas. But this book, while praising Karna, also praises Krishna and Pandavas. It also criticizes the acts of Durhodhana, Shakuni and Kauravas. This would have been okay if the book is named something else but Karna. Yes, I agree that Karna supported the wrong deeds of Kauravas, primarily the disrobing of Draupathi. But, from the views of Karna it should have been shown in some other way but as a wrong. Many of the incidents were justified from the view point of Pandavas and Krishna. Ideally this book should have projected Karna and Kauravas as good. This was my only uneasiness with the book.
Verdict: Read it once.
Other Reviews