Captured in the Castle – Felix Bogarte
Captured in the Castle
-Felix Bogarte
Spooky Moon, in imprint of Books Noir Limited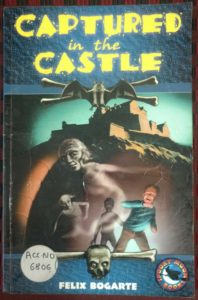 Soorya has been continuously using his school library and even Varsha has started to wait for every Tuesday, for a new book from him. Both Soorya and Varsha have been enjoying these books. While reading the books I recollect my school days and feel much younger. Such school level classics always open us to a new world. A couple of weeks ago, Soorya had got a book 'Captured in the Castle' by Felix Bogarte. It's actually a novel. The book which he got from library was an abridged version in 90 pages, just fit for kids. We enjoyed reading it.
Captured in the Castle revolves around two kids, David & Simon, who go on a school trip to a castle. There, out of mischief and curiosity, they get into the restricted dungeons and meet two souls – William & Edward. The boys want to experience the afterlife, while the souls wish to experience the real life. The boys agreed to the soul's persuasion and lend their body for a day. But alas, William & Edward had made a false promise and escape with the body of David & Simon. The funny & tragic experience of the four is detailed in second half of the story. What happens at the end strengthens our belief on 'Hope'.
The novel is classic and is interesting for kids, as well as adults. I, Soorya and Varsha spent more than a week with this book as bedtime story. We used the discuss the story and the morals established by the novel. Even after completing the novel, we spent a lot of time discussing it. We practically lived in a castle. I wish parents to read such stories to kids.
My verdict: Great read for kids