Budget on Penalties
Competition Commission of India (CCI) keeps a tab on unfair business practices across sectors in the market place and levies penalties to curb such unfair practices.
In a written reply to Lok Sabha, Corporate Affairs Minister Mr. Arun Jaitley said the number of "cases of cartelisation/unethical business practices reported to CCI" stood at 113 in the current financial year till February 23.
Last fiscal, the number of such cases was at 128, higher than 115 cases seen in 2013-14 period. In 2012-13, there were 94 such cases.
As many as 113 cases of alleged cartelisation and unfair business practices have been reported to the Competition Commission so far this financial year, the government said on February 26, 2016.
The cases pertain to various sectors including petroleum and natural gas, real estate, banking and insurance, and automobiles.
Responding to a separate query, Mr. Jaitley said CCI may impose penalties in appropriate cases.
CCI takes into account the aggravating and mitigating factors before arriving at the fair and judicious quantum of such penalties, he noted.
Responding to a query on whether the penalties on the companies drive them out of business itself or lead them to shut down their entire operations, the Minister said – "Penalties are imposed in order to eliminate practices having adverse effect on competition as well as for promoting and sustaining competition, primarily to protect the interest of consumers," which I totally agree.
CCI has recovered 0.6% of the total amount of fines that it has imposed on companies as lengthy judicial reviews and overturned orders. So far CCI has levied Rs.13,900 crore in penalties on companies for violating rules. The regulator's success rate in recovering the money is, however, Rs.82.1 crore.
Interestingly, comparing with Debt Recovery Tribunal under SARFAESI Act, close to 60,000 cases pending with DRTs involving bank dues worth Rs.3.74 trillion are stuck. DRTs were set up to provide expeditious adjudication and recovery of debt by banks and financial institutions.
Meanwhile, the Union Budget of India (referred to as the Annual Financial Statement in Article 112 of the Constitution of India) is the annual budget of the Republic of India, presented each year on the last working day of February (which is today) by the Finance Minister of India in Parliament. The budget, which is presented by means of the Financial Bill and the Appropriation Bill has to be passed by the House before it can come into effect on 1 April, the start of India's financial year.
Just wondering, on how recovery of all these penalties would impact the Union Budget.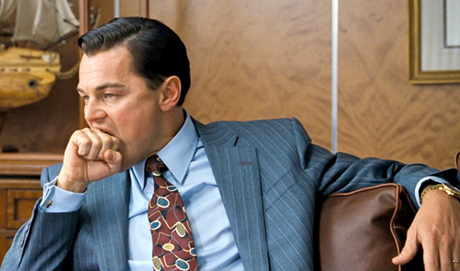 By the way, were you wondering why I have put Leonardo DiCaprio' photo to this post. Nothing official. Me too eagerly waiting to see if Leo gets an Oscar atleast this time around, the fifth time.
Fingers crossed.