Deception Point
–Dan Brown
Corgi Books
I had earlier read Da Vinci Code of Dan Brown. I was in Surat then and the movie was being released that weekend. My friend Saravana Prabhu asked me to read the book before watching the movie. So I purchased and started to read, just to finish it as quickly as possible. It was one of my first big novel in English as far as I remembered. Da Vinci Code was an excellent package that kept me pushing for each next page. After the read, the movie never made an impact on me. And I never got opportunity to read another Dan Brown, until I found Deception Point at my neighbour's place. The book looked a fresh unsoiled copy and I felt that he had not read it, though it seemed to have been purchased long ago. I was wrong. He had read Deception Point in a single day and recommended the book to me. So I took it a couple of weeks ago.
Deception Point starts with a bang. In the middle of an US election to the post of President, the NASA unfolds a discovery. There are various stakeholders in this NASA discovery and the find could well decide on who becomes the next President of the United Status (POTUS), either President Zachary Herney or Senator Sedgewick Sexton. The book takes us along with Rachel Sexton to the Article Circle in a drama filled travel. Dan Brown knowledge of latest military technologies in the US administration try to keep us hooked with the book, but alas it does not serve the purpose of gluing us to the book. We are more interested in the story, rather than going awe for the technology. The NASA find is cherished across the world and the President makes a live announcement of the find, though the discovery was a big put off for a reader like me. Still wondering why I was not shrugged with the discovery. Post discovery, Rachel and her teammates are tracked by a Delta Force for a kill. The secrets about the discovery slowly unfolds one by one, as expected, while the Delta Force tries to eliminate the secrets. Finally the plot ends as expected and without much surprise to the reader. The book was unnecessary long for the plot handled and on the contrary, the climax was pretty rushed up. And yes, I need to mention the unnecessary portion of Rachel's love affair. That does not add anything to the reader. For someone who expected another Da Vinci Code from Dan Brown, Deception Point is a certain let down. Having said that, Deception Point would still be a good read for a first time Dan Brown reader.
Verdict: One time read.
Other Reviews: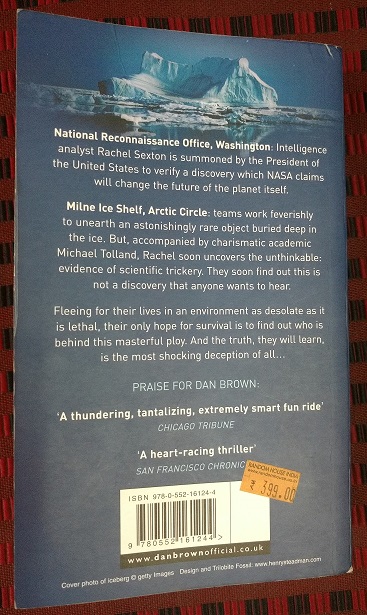 When Life Turns Turtle
-Raj Supe
Leadstart Publishing
Everything happens for a reason.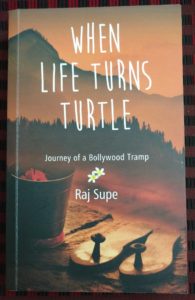 Somewhere in June / July 2016, I was invited by Leadstart for a book launch event. Given that it was a weekday, well before my office closing hours and in the part of city far away from my home, I was not able to attend the event. Bollywood personalities including Ashutosh Gowariker, Kay Kay Menon and Makarand Deshpande, launched author Raj Supe's book When Life Turns Turtle. Ruskin Bond had written the preface to the book and Benjamin Gilani had written the Foreword. I felt that I missed the event.
Later, I was asked by Leadstart if I could review the book of Raj Supe. Given the grand event that had happened and praises that came from the people who launched the book, I loved to have a copy of the book and read. However, I had other commitments and was reading a couple of Tamil books that my friends had written. I hence had to politely deny Leadstart that I would not be able to review immediately. They still were okay for a late review and sent me a copy of the book. After my travels (mostly to Delhi) and finishing other books I was reading, I took up Raj Supe's.
The title with the word Turtle reminded me of Grand Master Oogway, though technically thats a tortoise. Also the front cover photo with the mountain range and wooden chappals reminded me of the Zen way of living. Sprituality and meaning for life had always excited me. I started to read with much eager. The story unfurls fast with Indraneel being hit in both his personal and professional life. Having already tasted success and glory, these sudden events push Indraneel to recoil himself into a shell, like a Turtle. Running away from himself and his memories, he lands in Rishikesh along the banks of river Ganga. He gets guided by nature and is being blessed with a Guru. Finally, he comes back to Mumbai and leads his life as all others, enhanced with the calmness that he gained from his Rishikesh life.
The story flows like a river, infact a calm river. Indraneel is rich and successful, but typically finds two failures in his life – one each in personal and official front. The story is fast until then. After that it becomes slow. I understand that it could be slow, given the subject is spritual, but somehow we miss the connect. It looks that Indraneel has never dealt with powerty or does not have any idea of the (Indian) sprituality. He goes awe and gaga about anything & everything said in the name of sprituality. The foreigners who teach him are more aware of sprituality. It started to get bore after some pages. The story had many opportunities where it could have been explained with extreme emotions and could have created a connect with the reader. Unfortunately nothing of such sort happens. Even the spritual discussions are extremely superfluous. I could not get anything new in the spritual discussions, nor I could remember anything from the book on sprituality. Guru is such an important aspect in sprituality, but is not dealt with depth in the book and plays extremely small part. The plot had numerous opportunities to tell the story with excellent expressions, be it tragedy, love, romance, sprituality and guru, but missed. Unfortunately, I could never connect the long shallow book. Twice I tried to got a chance to get away from the book – first I was not able to attend the function, second I denied recieveing the book. Those were indications, but I went ahead and read, just to be disappoited.
As I earlier said, everything happens for a reason. But I missed to pick up the clues.
Other Reviews: