Translated from Vishnupuram Saravanan's tamil poem, published in Ananda Vikatan:
You please walk!
Its the same street
Where you walk now
Witnessed a child died of crying
Without his mother and
Without half of his scalp.
You please walk!
Its the same building
Which you see is
Where a women liberator
Was devoured by four-five men
Without language barrier.
You please walk!
Its the same beach
Where you dip your leg
With cool smooth beautiful water
Where a nine month pregnant
While trying to escape by boat
Was shot and killed.
You please walk!
Its the same trench
Where a liberator stood
With his six month old son
Withered by the shelling.
You please walk!
Its the same place
Where you rest now
When once a refuge camp
Witnessed a old man die
Waiting in line for
Water and fishing net.
You please walk!
Tomorrow we can go to another spot.
Yes!
We are now free
To visit any part of this country.
Its a tourist land.
But
To show you around and tell
I am left with just these kind of stories
And
I am helpless about it.
Original copy from Ananda Vikatan below: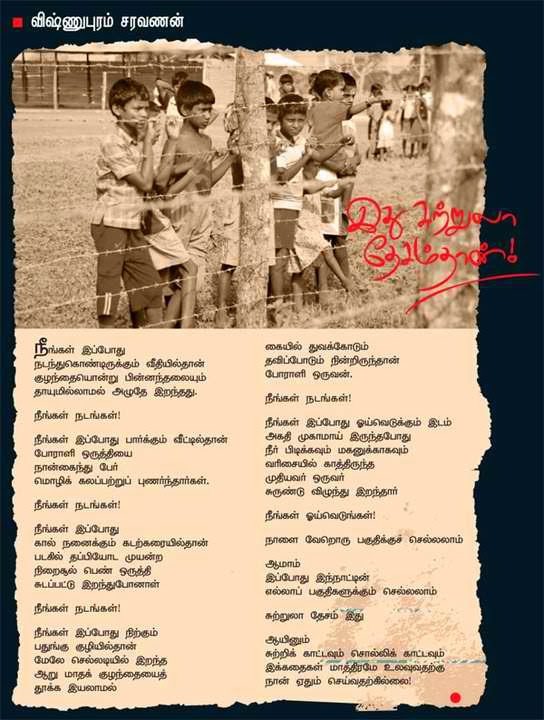 Today's day started with the news that Osama-Bin-Laden is dead. I came to know of this at our regular bus stop. On the way to office, I started posting in FaceBook. The posts are below:
Osama dead? Why not declare a global holiday?
Who will be attending the final procession of Osama? Will Mubarak get bail to attend it? Will Gaddafi be assured safe passage to attend?
Al-Qaeda's General Body Meeting in 3 days to select next leader. (PS: Subject to US approval)
Al-Qaeda's stocks fall. FIIs pull out. Wall Street demands a quick solution.
Next line leaders in Al-Qaeda get 1200% bonus. Senior leaders get Golden Parachute.
World suspects US hand in killing Osama. US agrees. India and Sri Lanka pass it as rubbish.
SMKrish says that it is Pak's work to tarnish US's image and deteriorate Indo-US ties. Obama makes urgent call to SMKrish to stop giving statements.
DMDK claims that it is not US, but Captain Vijaykanth who killed Osama. A footage in Kalaingar TV reveals Captain kicking Osama in the butt.
Subramanya Sami (National Legal Comedian – India) says, "Soni, UPA and Congres has hands in it. I have written about this to Mam Mohan Sing. If he rejects, I will file case in Suprem Court. I have all the necessary evidences."
TR's new Vinu Food Products (instant mixes and paste) advertisement is also suspected a reason for the killing. The movie marathon on Tamil channels, on account of May 1, could also be a reason.
Government withholds all the 3 Indian passports of Osama. Says that he needs to appear in person to claim his passports back.
Latest news: Osama, looking at these developments, commits suicide. Obama is recommended for Nobel Peace Prize-Part II.
Obama mumbles that he is humbled by the Nobel recommendation. Nobel and Gandhi puke on him.
That's it.